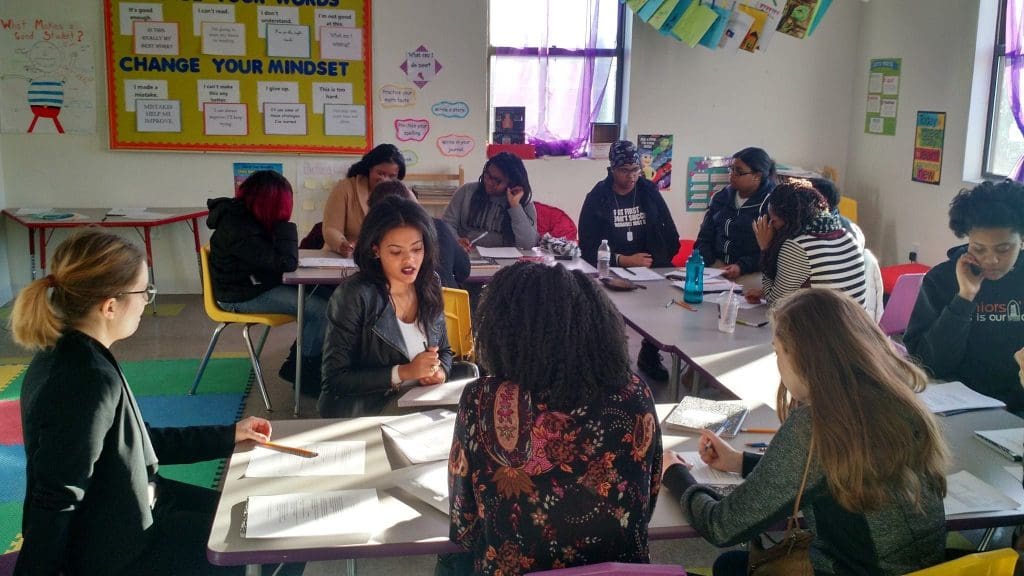 The Teaching Fellows Project offers twelve undergraduate students the chance to lead writing groups in Baltimore City elementary and middle schools. This yearlong program is a collaboration between the JHU Writing Seminars and the nonprofit organization Writers in Baltimore Schools.
Students take a three-credit class in the fall and another in the spring to study current best-teaching practices as well as historical and sociological context for teaching in Baltimore. Starting in late September or early October, WBS pairs students with local public elementary and middle schools where they co-lead weekly writing groups. Please note that writing groups occur outside of our class time, either during the school day or as an after-school club.
Cohort members don't need to be Writing Seminars students: the program is open to any undergraduate interested in writing, teaching, arts integration, educational equity, or social justice.
Schedule and Time Commitment
Fall class: 4-6.30 Mondays. In their first semester, cohort members are called Student Teachers and take the three-credit course "Teaching Writing in Baltimore Schools" (220.415), which provides training and support.
Spring class: 4-6.30 Tuesdays. Cohort members—now called Teaching Fellows— take the three-credit "Undergraduate Teaching Fellowship" course (220.416), which moves into deeper exploration of topics like student-centered pedagogy, community building and educational equity. Over the course of the semester, cohort members create independent projects to benefit their students and future generations of Teaching Fellows.
Teaching: 60-75 minutes once a week, plus commute time. Beginning in late September or early October, students will begin their work co-leading weekly writing workshops in local public elementary and middle schools. We work with cohort members to find teaching times that fit their schedules, and we arrange transportation to schools that are not on the Hopkins shuttle route.
Plans and schedules change, and we understand that some student teachers may not be able to continue into the spring. However, we ask that you not apply to the Teaching Fellows Project if you know you'll be unable to participate in the spring semester.
Application Process
Applications for the 2024-25 Teaching Fellows cohort are due to knoel4@jhu.edu by 5 PM March 15th, 2024 (with finalist interviews the week of March 25th). Please use the subject line TFP.    
To apply, please submit a letter of interest (250-500 words) that addresses these questions:
Why would you be a good match for the Teaching Fellows Project? What do you hope to get out of the program?
Have you done teaching or mentoring work in the past, or do you have other relevant life experience? Have you done coursework relevant to the concerns of this class? What have you learned from those past classes or experiences?
What are the names and contact information for two references (work supervisors, professors etc.) who can speak to your work ethic and character? (They won't need to write letters, but we may reach out to your references if you're a finalist.)
Other Community-Based Learning Opportunities in the Writing Seminars
The Writing Seminars also offers a creative writing course each spring in partnership with Writers in Baltimore Schools. This class — "Poetry and Social Engagement," "Fiction and Social Engagement" and "Nonfiction and Social Engagement" are taught in rotation — brings together Hopkins undergraduates and Baltimore high school students on the JHU campus to read, write, and build community . See an example of some of the work JHU and high school students produced in this class.